To overview page
Does systemic antibiotic prophylaxis before invasive dental procedures prevent infections in hip and knee patients?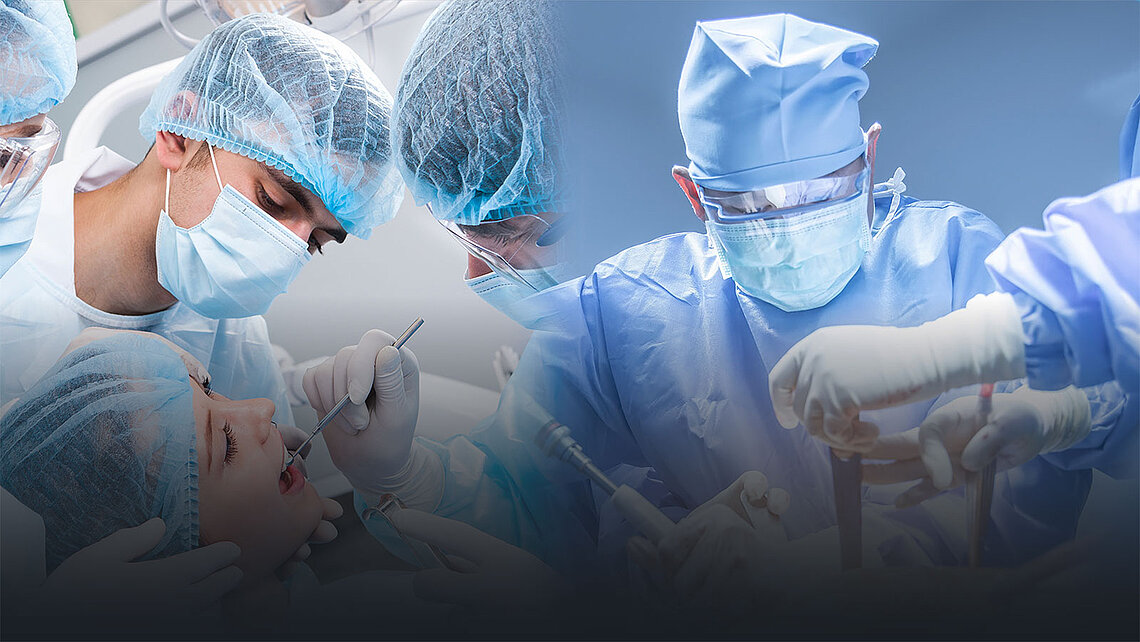 The general health status of a TJA patient has an impact on outcome and potential complications of the surgery. Diabetes, adipositas, chronic pathologies, and cancer, for example, expose patients to higher risks (of infection) and require particular care and attention. The dental status of a patient as well may influence the outcome. For this reason, many countries such as the USA and Germany have implemented protocols recommending a systemic administration of antibiotics to hip and knee patients before undergoing invasive dental procedures.
A recent study by Thornhill et al (2022) refutes the necessity of such protocols. Thornhill's research team could indeed identify oral streptococci as a possible cause in approximately 9% of late joint infection. However, these infections are suspected to be the result of poor dental hygiene routines rather than having been triggered by invasive dental procedures. Good oral hygiene on the other hand has proven to have an impact on preventing infections.
Thornhill and his team did not find any association between bacteria of the oral cavity and late infections in joint replacement and therefore question the necessity and the underlying costs of a systematic antibiotic prophylaxis for TJA patients before a dental procedure.
These new findings from the UK led the German Society for Endoprosthetics (AE) to reconsider its own recommendations, as Prof. Perka, Charité Orthopaedic Hospital, stated in a press release.
Reference: Martin H. Thornhill, Annabel Crum, Saleema Rex, Tony Stone, Richard Campbell, Mike Bradburn, Veronica Fibisan, Peter B. Lockhart, Bryan Springer, Larry M. Baddour, Jon Nicholl: Analysis of Prosthetic Joint Infections Following Invasive Dental Procedures in England, JAMA Network Open. 2022;5(1):e2142987. doi:10.1001/jamanetworkopen.2021.42987
Original article: Hüft- u. Knieprothese: Implantatinfekte durch blutige Zahn-OPs? Neue Studie hält  Antibiotikaprophylaxe für überflüssig, February 2022.