To overview page
Back on tour: The mobile BIOLOX® Education Center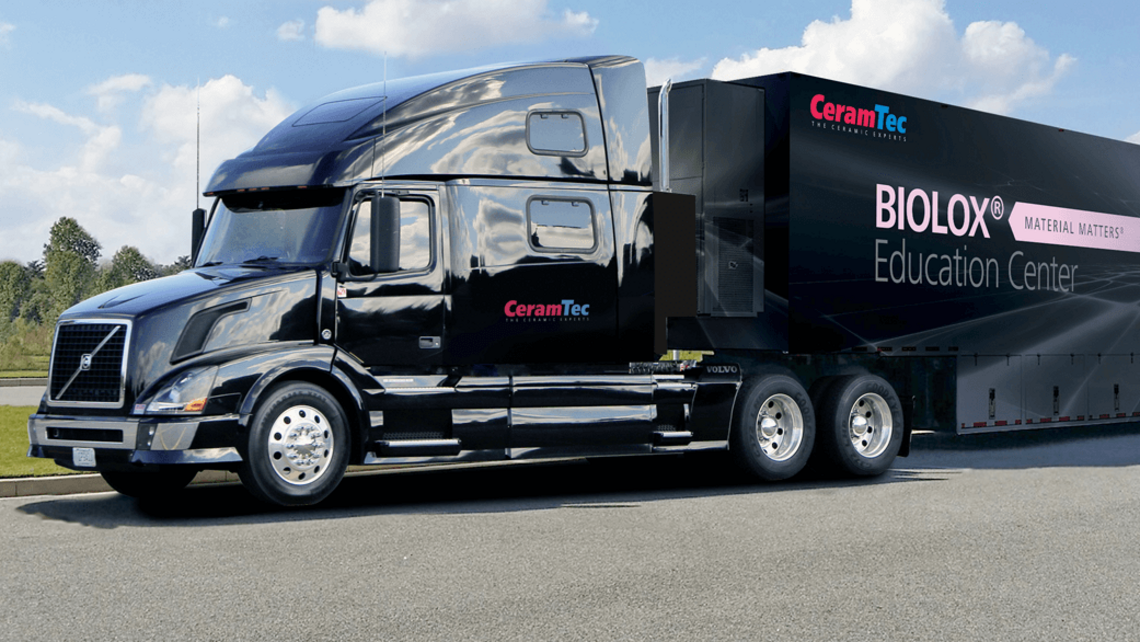 It is 16 meters long and can extend to a width of almost four meters when parked: Our mobile BIOLOX® Education Center is a modern training center on wheels which travels around North America.
Since its launch in 2018 it has been on tour through the US twice, but unfortunately, like most things, it had to take a break in 2020 due to Corona. We made use of the interval to update the interior design and to create five new learning stations focusing on the daily challenges that clinicians face in the field of joint replacement. Our aim is to equip doctors, surgeons, nurses, and other healthcare professionals with up-to-date knowledge about our medical ceramics in implantology for their daily clinical practice. The BIOLOX® Education Center is part of the CeramTec Service EDUCATION which we provide to our customers and clinicians. Interested parties can book the truck via our website.
We understand the science behind implant materials and the biological impact the material can have on the clinical outcome. In a guided tour through the Education Center, we offer training on different topics including fretting corrosion, biological interactions with implant materials in the body, cost-effectiveness, or future product solutions with ceramics. Hands-on training of the handling of ceramic components is also part of the educational tour. Customers who book the truck can additionally request training on specific topics.
This year's kick-off for the BIOLOX® Education Center was in Salt Lake City. Further stops will be in Dallas, Texas, and Orlando, Florida. In between booked stops there is still room for additional stop overs. Have a closer look at our BIOLOX® Education Center page.
Go to the BIOLOX® Education Center page